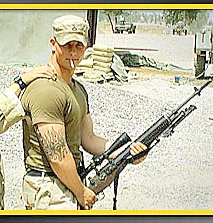 GOP
Talks
About War, While Democrats Actually
Fight
in War: All Able-Bodied Republicans Should Put Their Money Where Their Collective Mouths Are and Sign Up!

Good morning to all. Here's a post on something which was already burning me up this morning, but then when reading about what GOP guru Karl Rove said last night in New York (
http://msnbc.msn.com/id/8324598/
), I'm just beside myself with lividness.
Bottom line is this: I am sick and tired of Republicans running their collective mouths about how much they support this war, yet not getting off of their fat asses and placing their shoulders up against the collective grindstone in any real way
. In other words, if they are so "
behind the effort
" and if they are so "
for the war
" then prove it by volunteering for service in one of the two branches that are really up against it (in terms of numbers) in Iraq: the United States Army (
www.army.mil
) and the United States Marine Corps (
www.usmc.mil
).
I mean, why just talk a good game Republicans...why not play one too?
Karl Rove's comments last night are just another example of a typical ignorant ass Republican who has never served in any branch of the armed forces, shooting off just about the only thing they have ever shot (
their mouths
) about something they have
NO
idea of which they are talking about. Again, Rove said the following horseshit yesterday at the New York state 'Conservative Party' dinner(
http://msnbc.msn.com/id/8324598/
):
"...Liberals saw the savagery of the 9/11 attacks and wanted to prepare indictments and offer therapy and understanding for our attackers. Conservatives saw the savagery of 9/11 and the attacks and prepared for war...".
My only response to this kind of lame nonsense is to say, Mr. Rove...shut the f**k up!
See, people like this guy should be VERY QUIET when it comes to the subject of warfare or anything that even remotely pertains to warfare and warfighting
. People like Rove, et al. are extremely dangerous and should be taken with a grain of salt whenever they start flapping their gums about military service, war or any other activity in which they have no real knowledge. George C. Scott (as General George S. Patton) said the following about clowns like Mr. Rove in the opening monologue of the Academy Award winning movie 'Patton' (
http://www.simplyscripts.com/oscar_winners.html
):
"...They don't know any more about real fighting, under fire, than they do about fornicating...".
And don't forget dumb-ass VP Cheney talking about the insurgency in Iraq as being "...in it's last throes..." (
http://washingtontimes.com/upi/20050622-025702-4163r.htm
).
Really?!?
Hey, Mr. Vice-President, tell that to the folks who have been blown up in Iraq this week (
http://www.geo.tv/main_files/world.aspx?id=78733
). We've got good men and women out there dying and not just in Iraq, but also in Afghanistan and wherever the hell else our troops are scattered throughout the globe.
They have no idea what they are talking about
. In fact, here's a partial list of Republicans that "
talk
military, but
live
civilian" (thanks to
www.iflipflop.com
):
Dennis Hastert: did not serve/Tom Delay: did not serve/House Whip Roy Blunt: did not serve/Bill Frist: did not serve/Rudy Giuliani: did not serve/George Pataki: did not serve/Mitch McConnell: did not serve/Rick Santorum: did not serve/Trent Lott: did not serve/
Dick Cheney: did not serve/
John Ashcroft: did not serve/Jeb Bush: did not serve/
Karl Rove: did not serve/ Shit-bird extraordinaire Saxby Chambliss: did not serve/
Jon Kyl: did not serve/Christopher Cox: did not serve/Newt Gingrich: did not serve/Phil Gramm: did not serve/Antonin Scalia: did not serve/Clarence Thomas: did not serve/Sean Hannity: did not serve/Rush Limbaugh: did not serve/Bill O'Reilly: did not serve/Michael Savage: did not serve. George Will: did not serve/Pat Buchanan: did not serve...
and the list goes on and on.
My theory in terms of why Republicans (generally speaking) are the way they are when it comes to military service, in a nutshell, is as follows: these GOP "wannabe's" who are so "military" and yet DID NOT SERVE are like that because they never had their "cherry's busted" (so to speak) like those of us who have served (and continue to serve) in the Armed Forces. In other words, these GOP clowns still subscribe to their pre-pubescent and pubescent notions of what military service entails and/or is all about (i.e., toy soldiers in formation, pretty uniforms, 'Top Gun', immature notions of masculinity, etc.) because they don't understand military service really ISN'T as romantic and glorious as they think it is, i.e., it's scrubbing toilets, mowing lawns, desperate loneliness, mind-numbing paperwork, being away from friends and family, experiencing the unique gut pain of hoping you get a letter from home during mail-call, sharing a head/latrine with 10, 15 or more guys at the same time, being hungry, being too hot or being too cold, going dirty for days or more at a time, etc. etc. See they don't understand what it really is because they've NEVER been in it...again, I refer you to the 'Patton' monologue.
So, in closing, putting magnetic ribbons on your SUV's ain't enough Republicans.
Start putting your money where your mouth is my dear Republicans...sign up or sit down and shut the hell up!
No one wants to hear words anymore, people are being killed and amputated on a daily basis.
It's time for real action!
Semper Fidelis