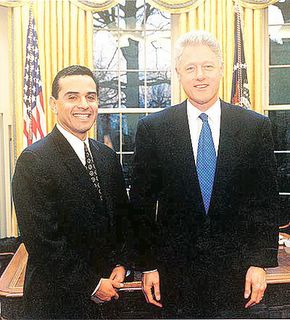 A Stunning Victory for Villaraigosa in the 2005 L.A. Mayoral Race

This is indeed a good morning, especially for liberal Democrats and Democratic progressives around the country. I am happy to report that
with 99% of the precincts reporting
(
http://www.sfgate.com/cgi-bin/article.cgi?f=/n/a/2005/03/09/state/n044705S54.DTL
),
Antonio Villaraigosa (in an upset of significant proportions) has taken the field and brilliantly trounced his competition by capturing the majority of the votes cast in the 2005 Los Angeles Mayoral Race
(
http://www.lacity.org/clk/election/
). His chief opponent, the current office-holder
James K. Hahn, has (so far) eked out an anemic 24% of the vote
, which (although this performance places Hahn in the "number two" position, thus guaranteeing him a spot in the May 17th run-off) is "nothing to write home about" and is an extremely unimpressive performance for an incumbent mayor.
By winning a decisive 33% of the total vote, Villaraigosa outflanked the field, surpassed the competition and has positioned himself squarely in the driver's seat in the upcoming run-off
against either Bob Hertzberg or the incumbent James K. Hahn, who actually continue to "duke-it-out" (as of 0639 hours Pacific Standard Time) for second place (
http://www.nbc4.tv/politics/4266817/detail.html
). Of course, if Hahn is able to squeeze out second place (which he will more than likely do, unless Hertzberg manages a come from behind surprise victory...which it doesn't look like Hertzberg has the juice to pull off...but we'll see), then "the city of angels" will see a repeat of the 2001 race with a 2005 rematch between Villaraigosa and Hahn for control of the city.
This is nothing short of a stunning victory for Villaraigosa, who can place the March 8th returns securely in the "win" column.
I was up most of the night last night, trying to find out what was going on with the race via the city's official website (
http://www.lacity.org/
), plus other sites and via satellite. At first (when the first returns began trickling in), it was Hertzberg and Hahn all the way (with the early lead) and (I will have to admit) that made me as nervous as a turkey in November in that I was thinking that it would be a Hahn vs. Hertzberg, May 17th battle for the leadership of Los Angeles. I held on, constantly hitting the refresh button, hoping to get more returns that would help flesh out the situation. But, the returns were coming in so slowly (unusually slow quite frankly) that I eventually acquiesced and went on to bed around 1240 hours, not knowing who was winning or how the election was playing out. However, I found out this morning (
http://www.kesq.com/Global/story.asp?S=3051172
) that a heavy fog front came into L.A. last night and that incident, plus the implementation of a new voting system, really threw the proverbial "monkey wrench" into the works and gummed-up the returns. All's fair in love and war though, right? Either way, congratulations to Antonio Villaraigosa and his brilliant campaign team for their outstanding performance in sweeping the field and clearing the way for their team to advance on to City Hall. This isn't just a victory for them, but it is certainly a victory that resonates throughout the country, for all Democratic progressives that are truly about
building bridges between communities and forming alliances in the 21st century.
Building bridges and forming alliances, that's what is needed to win against the GOP in 2006 and 2008
. Semper Fidelis