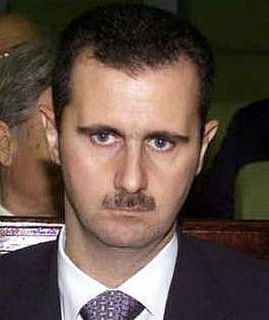 Is Syria Next On The Chopping Block?

Morning. So much is already happening in the world today. First, it seems like there has been some sort of explosion outside/near the Iranian port city of Dailam, Iran. Dailam is located in the province of Bushehr, where Iran's only nuclear power plant (a Russian-built 1,000-megawatt nuclear reactor) is scheduled to go online in late 2005. Initial reports state that eyewitnesses reported seeing some kind of aircraft release a missile of some sort, and then there was an explosion. Link is as follows:
http://edition.cnn.com/2005/WORLD/meast/02/16/iran.blast/
. This is not good. The situation in the region is very tenuous (at best) and explosive (at worst). Then, the assassination of former Lebanese prime minister Rafiq al-Hariri on Monday (14 February 2005) has more than amplified the intense pressures between the United States and Syria, so much so that the United States recalled its ambassador to Syria yesterday,
http://www.capecodonline.com/cctimes/upulls16.htm
(especially since there is mounting suspicion that Syrian intelligence elements had something to do with the operation,
http://www.swissinfo.org/sen/swissinfo.html?siteSect=143&sid=5542168
). What adds "gas to the fire" is the Russians determination to sell Syria advanced missile systems in defiance of the outrage projected against them by Israel and the United States. The United States and Israel have urged Moscow to drop any such plans, saying Russian arms supplies would only strengthen militants in the Middle East,
http://www.reuters.com/newsArticle.jhtml?type=worldNews&storyID=7647769
. The Reuters article states that "...Moscow is looking to sell Syria its flagship Igla shoulder-fired missiles, widely used by militants around the world...". Then, to increase the levels to damn near cataclysmic levels, Iran and Syria have decided to form a common front or an "alliance of support" to counter the mounting challenges and threats both nations face from the United States and Israel,
http://www.reuters.com/newsArticle.jhtml?type=worldNews&storyID=7648646
. With all of this swirling in the international ether, I decided to revisit a post I made awhile back, explaining how I believed (as I still do) that
the United States (or, perhaps a joint US/Israeli operation) is preparing to strike Syria sometime this year; more than likely sometime in this month of February
. Like the the Bob Dylan song, I can feel this "...blowin' in the wind...", and its labeled "Coming in 2005". Ladies and gentleman, this Administration, this nation IS GOING to attack Syria sometime this year. Moreover, as for all of my fellow veterans, military historians, analysts, operations officers, etc. this is not news. We've known this for awhile. However, it's 2005 now, and the election is over(maybe), and this is now the "mean season", militarily speaking. In fact, if I had to bet (and I'm not a betting man) the odds are far greater that the U.S. will attack Syria than attack North Korea. So, my question is this: when "we" attack Syria, with the primary mission being to neutralize and eradicate insurrgent platforms/bases of operation, neutralize Ba'ath leadership and elements in exile, and facilitate the dismantling of the Bashir Assad regime, what will happen next? Will this be a blip on the radar, or will there be severe consequences in terms of Americas foreign policy, especially in the Middle East? Also, for those who have been monitoring Israeli news and politics, how big a deal is this apparent mini-insurrection within the IDF concerning the removal of settlers? A number of Israeli soldiers and commanders (it's been reported)are refusing to remove the settlers per Ariel Sharons orders and even going so far as siding with the settlers and engaging in actual gunplay, IDF vs. settlers. Am I being a tinfoil, or is there a real chance of an Israeli Civil War? In closing, Bush and his cronies had no idea what they were doing and I'm afraid they have set in motion events that are tragically spinning out of control. Like GlobalSecurity.org postualtes (link is
http://www.globalsecurity.org/military/ops/syria-intro.htm
):
Should Syria and Israel drift into war, what would the United States do? With a full army in nearby Iraq and Mr. Bush's conviction that Syria is a pipeline for Islamic terrorists who are attacking Americans in Iraq, who knows? There are many scenarios. But it seems clear the US could drift into the equivalent of a World War -- an all-out conflict of the Arab world against the US and Israel
.
Feedback and analysis is always encouraged. Semper Fidelis.